All of our professional full-time staff members are state-certified confidential crisis advocates for sexual assault and domestic violence. Please see below for program specialties and learn more about our team!

Kara

Samaniego
Assistant Director of Wellbeing
Pronouns: She/Her(s)
E-mail: kasamani@calpoly.edu
Phone: 805-756-2221
Make an appointment: calendly.com/ksamaniego
Kara is the Assistant Director of Wellbeing, which directs the Safer Program. She has worked with Safer since 2014 and is passionate about infusing trauma-informed & healing-centered practices everywhere she can. She has professional experience in the non-profit and private sectors with an emphasis on program development, capacity building and management. She received a BS in Psychology with a Minor in Women and Gender Studies and MBA from Cal Poly. She lives in SLO with her husband, two children and super-floofy cat. She loves cooking, anything childbirth-related and nature.
Gillian Cutshaw
Campus Advocate
Pronouns: She/Her(s)
E-mail: gcutshaw@calpoly.edu
Phone: 805-756-6081
Make an appointment: calendly.com/gcutshaw
Gillian is a Cal Poly alum with a bachelor's degree in Sociology and a master's in Gender and Women's Studies from Trinity College in Ireland. She has been involved in gender-based violence prevention and survivor support since 2004 when she started her career at Lumina Alliance (formerly known as RISE & Stand Strong) as the Education Services Coordinator. Prior to joining the Safer team, Gillian spent six years as the Coordinator of Sexual Assault Prevention, Outreach, and Education at Saint Mary's College in Moraga and one year at Santa Clara University as the Assistant Director of the Wellness Center. In both roles, she provided educational outreach, advocacy, and crisis counseling services to survivors of gender and power-based violence. Gillian started her dream job as a Campus Advocate with Safer in May of 2020 and is thrilled to be back at Cal Poly. She is a lifelong feminist and ally of the LGBTQIA+ community and is passionate about using her privileged identities to advocate for marginalized communities. She is experienced in supporting students through Title IX investigations and hearings and is dedicated to providing all survivors with a safe and welcoming space where they can feel heard, validated, valued, and seen. Gillian lives in South County with her husband and 2 small children, and spends her free time reading, going to the beach, and playing with her kids.
Matilda Bunchongchitr
Campus Advocate
Pronouns: She/Her(s)
E-mail: mbunchon@calpoly.edu
Phone: 805-756-7681
Make an appointment: calendly.com/mbunchon
Matilda graduated from Humboldt State University with a B.S. in Wildlife Conservation Biology/Applied Vertebrate Ecology with a minor in Psychology and will be starting her master's in Higher Education Counseling in Student Affairs (HECSA) fall 2021 at Cal Poly. During her undergraduate program, Matilda partnered with Check It, a Sexual Violence Bystander Intervention Program to bring resources, support, and continued education to the first-year residential halls and cultural centers (MultiCultural Center and Asian Desi Pacific Islander Collective). Her position in the MultiCultural Center (MCC) opened opportunities for cross collaboration with the Women's Resource Center and the Queer Resource Center where Matilda reaffirmed her passion for survivor centered support and social and gender equity. In 2018 she began her career at the Center for the Pacific Asian Family (CPAF), a nonprofit agency in Koreatown, Los Angeles that serves to address domestic violence and sexual assault in the Asian and Pacific Islander communities. Here Matilda began as an AmeriCorps Vista providing translation for Thai client survivors, outreach in universities, and volunteer/intern recruitment before becoming a full-time employee of CPAF as a youth prevention educator. She has primarily worked with the Asian and Pacific Islander community, youth (11-18 years old) in middle and high school, youth with English as a second language, and youth (18-25) in University Housing and Cultural Centers. Matilda enjoys swimming, reading, watching wildlife, and continuing her education and journey in antiracism and the nonviolence philosophy.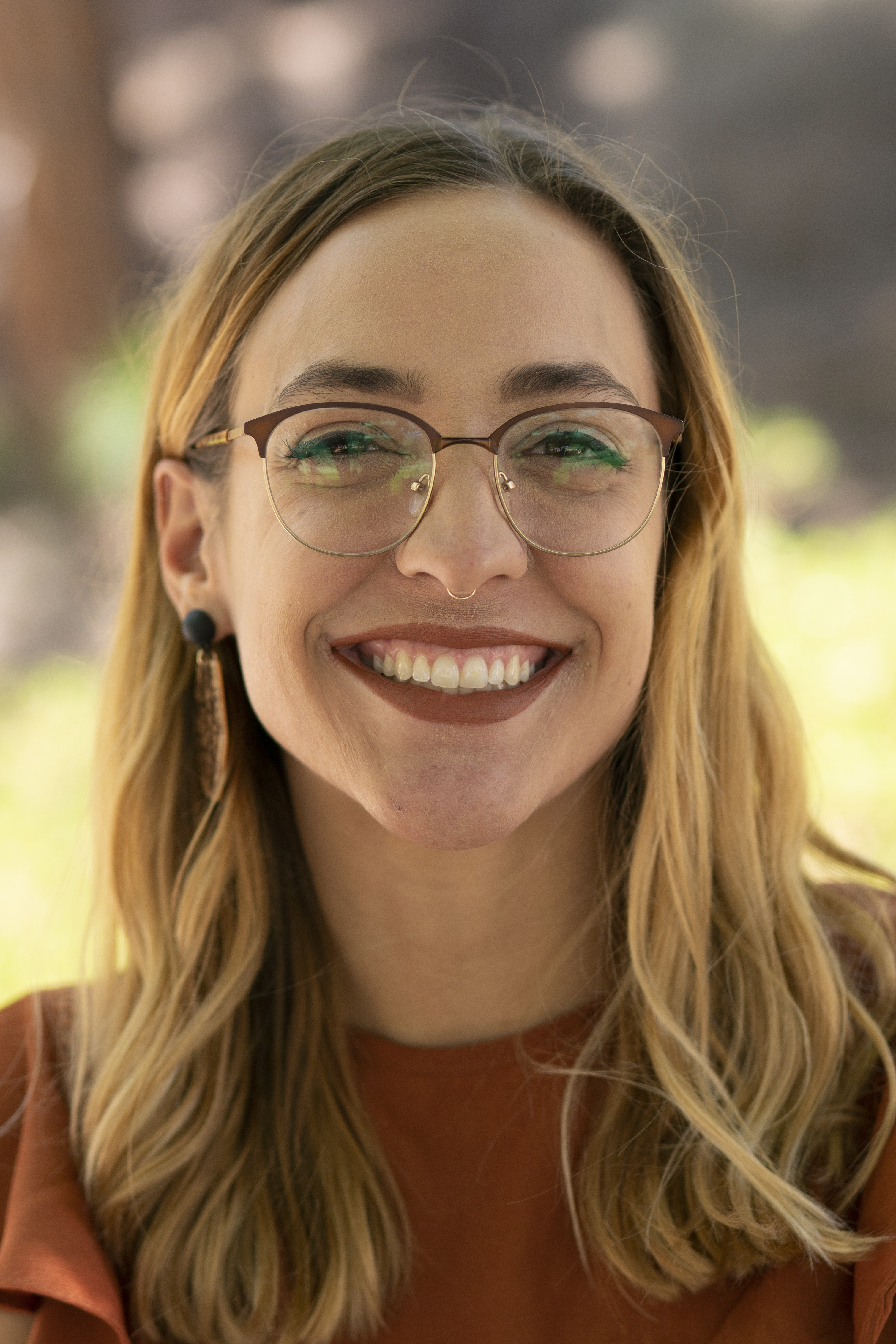 Jennifer MacMartin
Prevention Specialist for Gender-Based Violence Initiatives
Pronouns: She/Her(s)
E-mail: jmacmart@calpoly.edu
Phone: 805-756-1301
Make an appointment: calendly.com/jmacmart
Jennifer graduated from Cal Poly in 2017 with a Sociology degree and minor in Women's and Gender Studies. As a first-generation transfer student, she got involved quickly with social justice organizations, including Safer, Triota Feminist Club, URGE: Unite for Reproductive & Gender Equity, and Sprinkle: an undergraduate journal on feminist and queer studies. After graduating, she worked at Lumina Alliance (formerly RISE) facilitating the 80-hour state certification course for crisis counselors, and managed their 24-hour crisis hotline. She is grateful to be back at Cal Poly, cultivating a culture of anti-violence and empathy on campus so violence doesn't occur in the first place. She is currently pursuing her Masters in Public Health, specializing in Health Communication for Social Change through the CUNY School of Public Health. In her free time, she loves gardening, hiking, and weaving.

Our student staff have always been the lifeline of our program - we were built by students, for students. Learn more about getting involved as a student here.
Related Content